Commodore's Corner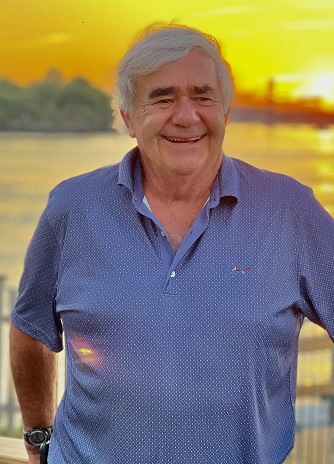 Greetings: The Club has been very busy lately with many of our members showing up to just relax and enjoy the deck! Two weeks ago we had a Friday night social and although the weather was not that inviting, a good compliment of members and guests showed up. Of course Mary Kath and Judy showed off their new rugs purchased for the club.
And of course the food and drink was outstanding, thank you Judy and Mary Kath for helping out with this.
The next Social will be on July 16th at 5 PM so make a note of it so you don't forget. The Board has also picked August 28th for the Grand Lobster and Clam Bake. This event sells out every year so make sure you sign up early. There will be additional info on both of these events as we get closer.
On membership, we are at capacity of 200 as prescribed by our bylaws and have established a waiting list. My guess is it is getting around as to what a great deal KPYC actually is. Should you have any friends interested make sure they get on the list fairly soon as we anticipate it filling up as we move into the boating season.
We have established a new "Cruise Committee" which is chaired by Dave Severance. The idea is to have something off site of interest for the members. Destinations being considered are:Great Bay rafting while watching the Thunderbirds later this summerA trip to GloucesterRockport Small AnchorageCaptain John Smith Isle of Shoals InvasionMore to come on this as Dave and his committee continue a work in progress.

A couple of weeks ago a Board Member brought up the idea of selling hot dogs on the weekends for the members and guests. I thought it was a great idea and told him to give it a shot. The idea has been well received and is going well. You get a premium dog with all the fixings for only 2 bucks and you don't have to leave a tip!! (you can if you want) I am going to earmark any profits to the Social Committee for future events which everyone enjoys.
Sailing school is underway and we have a full complement of participants. This is something you may want to consider next year should you have any interest in this aspect of boating. It is fun and very educational.
Several members have asked about Membership Cards and Dinghy Stickers. We are currently working on that and should have it wrapped up in the very near future. We are not doing parking stickers this year as the last time we tried it we had no one to enforce it. Now should there be anyone who would like to donate their time and be a parking lot attendant on the weekends please let me know and we will bring back the stickers!!
Members have also asked about the missing flagpole, well we actually have the new one but Ed is just waiting on the hardware to secure it with. Brenna Cavanaugh has been appointed the Club's new quartermaster and will be working on getting apparel that members can purchase online with the Club insignia. Items to include hats shirts, and outerwear.
Last but not least we presently have a vacancy on the Board of Directors to fill the remaining term of a member who retired. Should you be interested in the position please send me a note as to why the position would interest you. We meet every second Monday to conduct business in the operation of the Club.
Now a few House Cleaning reminders!!!
Launch Hours
Tuesday, Thursday & Friday 1 to 9
Saturday and Sunday 8 to 9

Also contrary to misconception the beverage frig is still a buck and a bag of ice is still a buck. Seems like some crazy rumor floated around that everything was free, can you imagine that? Also please remember to LOCK the frig once you are done with it and should you be the last out please make sure the club is locked.
As always should you need anything or have comments, ideas or would like to be on a specific committee do not hesitate to reach out to me at commodore@kpyc.net.
Dean Crombie
KPYC Commodore
See you at the club!
Fair winds and following seas,
the KPYC Commodore