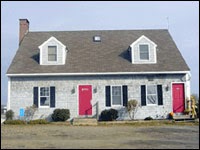 Kittery Point Yacht Club's clubhouse is located on Goat Island, in New Castle NH. The clubhouse has a wrap-around deck and scenic views of the Piscataqua river and the Naval shipyard directly across the river. One shower is available inside. The clubhouse is not wheelchair accessible with two broad steps up to the deck.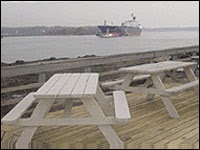 Launch Service From 4 to 9PM Tuesday, Thursday and Friday and on weekends Saturday, Sunday and the Holidays from 8AM to 9PM.
Front tie up is approximately 75 ft long with a 6′ depth at the float. Note there is a shallow spot at the extreme east end. Currents in the Piscataqua are swift and there is a lot of river traffic and resulting wakes. Any boats that tie up are strongly recommended to use long spring lines and have sufficient fenders.
Dinghy docks are inboard of the float.
Note that the typical tidal range of the Piscataqua is 9-11 feet and the ramp to the float can be steep at low tide.
The 4 club moorings in front of the club are rented seasonally. please contact the steward on channel 68. There are 3 two day use moorings on a first come first served basis, in Gosport Harbor at the Isle of Shoals. The steward is not involved in the Isles of Shoals moorings. Visiting boats are welcome to use these if available,
Parking is limited, especially during Tuesday and Thursday night races, please respect the parking spots for our upstairs tenants.Member "Exclusive Use" of Clubhouse and/or "Private Party" Rental is available at KPYC! Enjoy our great facilities for your next private function. More information can be found on the Social Events page.